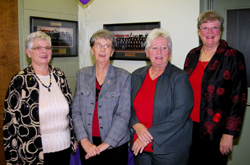 The Fonthill Lionette Club was formed in 1970 with 13 Charter Members. The Fenwick Lioness Club was our sponsor. We still have one active Charter Member.
Our main objective at that time was to assist the Fonthill Lions; most of the money we raised was donated to them. Our fundraisers included raffles on various items, card parties and a pie booth at the Fonthill Lions Carnival. For many years we sponsored a Queen Contest in conjunction with the Carnival.
In 1989 we joined Lions International and our name was changed to Fonthill Lioness. One of our major projects for many years was serving lunch to the Senior Citizen. We started out with a group of about 35 in the old Pelham Library, as years passed the group grew and moved to the Fonthill Legion. Some weeks we would feed between 150 and 200 people. Over the years we have sold Chocolates, Poinsettias, Meat Pies and held Craft & Bake Sales.
We still do support our Lions, but we also donate to many other projects such as; Pelham Cares, Pelham Library, Town of Pelham Day Camp, Welland Hospital Foundation, FACS, VON, Niagara Peninsula Children's Centre, Lions Effective Speaking, Camp Dorset, Lake Joseph Centre, Camp Kirk, Camp Trillium, Women's Place, Lions Homes for the Deaf, Lions Foundation of Canada, Eye Care Niagara, Lions Youth Exchange and Lions Foundation of Canada. We have purchased 2 Guide Dogs for the visually impaired and are saving to purchase a third one. These Dogs cost us $6,000.00 each.
To raise our money we cater our Lions Dinners, host a Lioness Teddy Bear's Picnic, sell Strawberry Short Cake at the Pelham Farmer's Market in June and help the Lions at the Food booth in Harold Black Park on Canada Day.
For more information, contact us at fonthilllioness@gmail.com.